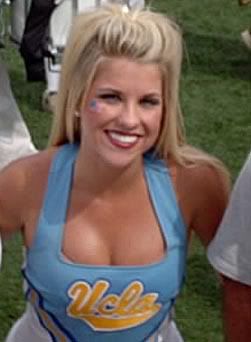 You always know that you are in for something special when the two most storied basketball programs in the land face-off on the hardwood. No, I am not talking about the College of Charleston continuing their excellence (2-0) against the UNC Tarheels; I am referring to the UCLA Bruins (3-) with the most (11) NCAA Titles vs the Kentucky Wildcats (3-1) with the second most (7) National Titles. Tubby Smith and the Wildcats never seem to produce in Lahaina, Hawaii @ the
EA Sports Maui Invitational, and this year would be the same dance
, different song for the Kentucky blue. The Wildcats did put on a good show-after being down by 8-points at the half, they made one hell of a come back in the second half outscoring the Bruins by 3-points, but the Bruins were hungry, made less turnovers and ended with a chance to move on and play the 19th ranked Ga. Tech Yellowjackets who came back to beat Memphis 92-85.
Recon!
I watched this game because the College of Charleston has the pleasure of playing Kentucky next Tuesday at Rupp Arena. Indeed, I will be there at the game. The keys for the College to upset the Wildcats are as follows:



Force Turnovers: This Kentucky team has trouble with man to man defense. As shown in the game against UCLA if the pressure is added and the passing lanes are shut down (although talented) the Wildcats are missing fundamentals when it comes to dribbling, passing and making things happen.



Shut down Joe Crawford: Anytime we are outsized by a Junior point-guard standing at 6'5" and tipping the scales at 211 lbs, there is going to be a mis-match. That being said, Crawford can be shut down with pressure and speed-something our boy Draper has in spades. Crawford is on fire as he put up 18-points against UCLA and 16 against Miami (Ohio), but his numbers are reflective of a lack of team effort and his inability to get the ball to other players.



Pressure Derrick Jasper: Another large body for the Wildcats @ guard is the 6'6", 213 lb. Freshman Jasper. Miami (Ohio) was able to pressure this youngster into turning the ball over and kept him scoreless. UCLA gave him "room to grow" and Jasper took advantage of it putting up 12-points.



Pressure Perry Stevenson: Another Freshman who if pressured will make bad decisions resulting in turnovers. Once again, UCLA let another freshman have "room to grow" and they paid dearly for it as he put 10-points on the board. Miami (Ohio) held the youngster to 2-points. Once again, point goes to Miami (Ohio) for doing their homework.



Use our big men to keep Randolph Morris out of the game: Morris is a 6'11", 259 lb. Junior with the size and experience to get to the charity stripe and put points on the board. He had 12-points against the Bruins tonight, but he wasn't unstoppable. If the ball isn't in his hands, the bleeding can be stopped becuase despite his shooting skills, his rebounding ability is less than desired.



Don't get allow the shock and awe of Rupp Arena to make you play out of your game: Rupp Arena is a shrine to the glory days of Kentucky basketball complete with National Championship banners, retired jerseys of the great ones and (always a well-deserved attention grabber) the beautiful Ashley Judd. Listen up Cougs, the Wildcats have lost numerous games at Rupp and they will lose to you because they fear the Cremins and may think you are just a SoCon pantsy team that they can walk all over. Don't let it happen! Be prepared, play your game and listen to Coach. If you do, I have a feeling we'll be coming home with the scalp of another giant to hang in Kresse Arena. ESPN Bracketology has us playing Ohio State in the first round of the NCAA Tournament in Rupp, so you might as well get used to winning in the Bluegrass State.