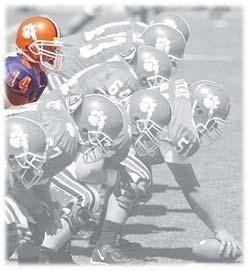 I know that Coach Spurrier had all of the beat Clemson signs taken down around Williams-Brice and he mentioned in the Post & Courier (11/22/2006) that this game is just like any other game, and (that) "we should try to win them all". But Bobby Bowden anticipates a different story for the "most exciting 2-minutes of football" (when the Tigers take the field) as he said, "That's not his M.O. (to wait until Clemson takes the field) he might be on buses behind us."
Either way, Coach Spurrier lost a close game to Clemson last year, and this year will probably be just as close.
Coach Spurrier is a competitor and being 0-1 against a Bowden is not (to steal line from Coach Bowden) his M.O. Coach Spurrier might just think this is another game, but I think that is just what he tells the Press. Spurrier is ready for his first (of many) win against Clemson. It will be close, but without a kicking game, Clemson will probably come up short against Carolina. Go Cocks!