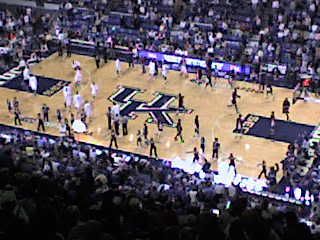 Updated December 1, 2006
The
Kentucky Wildcats
are 54-11 (all-time) against teams from the State of South Carolina. The two Palmetto State teams that have beat the Wildcats in basketball are Clemson (4-12) and USC (7-37).
The Series:
The
College of Charleston
is 0-2 against the Wildcats, having lost to Kentucky in the Great Alaska Shoot-out in 1996. Kentucky defeated the Cougs by 27-points (92-65). This loss was Coach Kresse's largest margin of defeat and the school's largest margin of defeat against a NCAA opponent. Kentucky was definitely the better team during that game and the Cats went on to win the National Championship that same year.
The Cougars at Rupp Arena:
The Cougars are 0-2 at Rupp Arena having lost (68-58) to the Demon Deacons of Wake Forest in the first round of the NCAA Tournament in 1994. The Cougars lost 77-61 to the Wildcats at Rupp Arena this week. The NCAA Bracketology predicts the Cougs to win the SoCon, returning to Rupp in the first round of the Big Dance to take on the Buckeyes. There is a lot that happens between now and then, but I'd like see the Cougs return to Rupp and put on in the win column.
*
I added the photo from Rupp Arena taken with my cell-phone before going back to update this post. I have more Kentucky and Rupp material to share that will probably be posted this weekend.