The
College defeats Chattanooga
at Kresse!
Despite trailing from the 12:37 mark in the 1st half until the final 60 seconds and being down by 7-points at the half, the Cougars dug deep, played tough and brought home a victory on the backs of the prodigal son (
Josh Jackson
) and a hard-court general wearing #11 (
Dontaye Draper
). Is it any shock that Dontaye would have his own melody from the rowdies in the student section? No, just insert his first name into the o-lay, o-lay, o-lay-soccer chant, and you have a splendid Dont-Ay-o-lay-o-lay, Don-tay, Don-tay! (
Photos compliments of CofC SportsFan)
From the Den
Dontaye led the Cougs with 18-points and brought the crowd at Kresse to their feet by hitting a 18-footer with 51-seconds left to tie the game at 60, and then brought home a win, driving to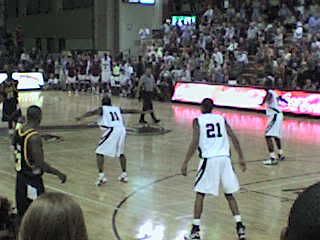 the basket and sliding in a lay-up with 4.1-seconds left on the clock. (Don-tay, o-lay, o-lay, Don-tay! Don-Tay!)
Josh Jackson
returned from his suspension and put 6-points on the board in his 22-minutes of playing time.
David Lawrence
had 4-points, 4 assists and 9-boards, combined with
Jermaine
Johnson
and
Marcus Hammond
13-a-piece, and a 12-1 run with 5-minutes left on the board to bring the Cougs home a badly needed victory.
The Cougs shot 47.2% versus the 41.5% from the field the Mocs were able to put on the board. The College was able to contain the Mocs' scoring duo of
Mays and Bridgewater
as well as stifle what paltry offense
Tyler "Airball" Troupe
could muster. Eyes off Tyler! Don't stare down the crowd when you finally make a basket after lofting 4 precious attempts.
Excellent job Cougs!
Mocs, thanks for playing!